InkTober and Drawlloween!
Posted : October 5th, 2014
Call us slow on the draw (ha! Draw! Get it?), but there are not one, but two really cool web-wide Halloween-themed art challenges happening right now, and it's still early enough to get in on them – #InkTober and #Drawlloween! Basic info below, but click on the linked names for additional information and whatnot.
31 Days 31 Drawings
Every October, artists all over the world take on the InkTober drawing challenge by doing one ink drawing a day the entire month. I created InkTober in 2009 as a challenge to improve my inking skills and develop positive drawing habits. It has since grown into a worldwide endeavor with thousands of artists taking on the challenge every year.
Anyone can do InkTober, just pick up a pen and start drawing.
Make a drawing in ink (you can do a pencil under-drawing if you want).
Post it on your blog (or tumblr, instagram, twitter, facebook, flickr, Pinterest or just pin it on your wall.)
Hashtag it with #inktober
Repeat
Note: you can do it daily, or go the half-marathon route and post every other day, or just do the 5K and post once a week. What ever you decide, just be consistent with it. INKtober is about growing and improving and forming positive habits, so the more you're consistent the better.
That's it! Now go make something beautiful.
Drawlloween started off as the "October Halloween Drawing Challenge", a daily, topic-based challenge used to promote productivity as well as strengthen skills through consistency,  and concept development based on working within/pushing and expanding upon boundaries. The challenge was introduced and started by Thirteen Paradox Design on the Mintees message boards in 2012. I enjoyed the challenge so much, that when I noticed that Thirteen Paradox Design didn't start up the challenge again in 2013, I took the opportunity to keep it going. My brother Brian helped me sort out last year's and this year's topic lists.
The challenge was named "Drawlloween", chosen due to the absence of matching hashtags in social medial, during the beginning of the second annual challenge in 2013. During this time, we were unaware of another daily drawing challenge with the same name (however, a different approach), which was created in 2012 by Brian Soria, but sparingly documented. The Drawlloween you are referring to is unaffiliated with Brian's particular "Drawlloween".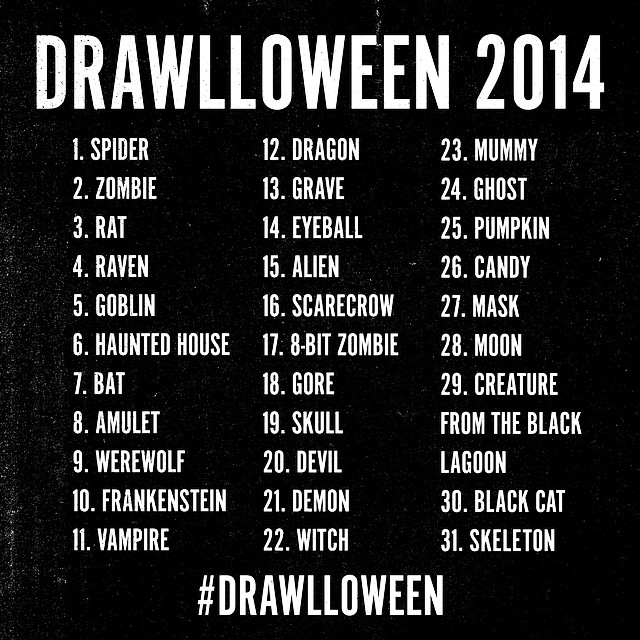 31 Creatures, 31 Days
Drawlloween is a concept I came up with a few years ago in which I wanted to draw a monster a day for the month of October. I will say Inktober probably outdates Drawlloween, but I swear I did not model it after Jake Parker's initiative. It was inspired by Jonathan Coulton's "Thing A Week". (Found my first posting on my old blog here)
Regardless, #Drawlloween is about drawing creepy, spooky, weird things all month long. Tell your friends, and spread the word!
---
Have a news item, product or other item of interest to Halloween lovers everywhere? Then SUBMIT IT! It's free! It's easy! It's what all the cool ghouls are doing!
You must log in to post a comment.