The Second Annual Cult of the Great Pumpkin Art Contest (2012)
Faces of the Great Pumpkin Art Contest 2012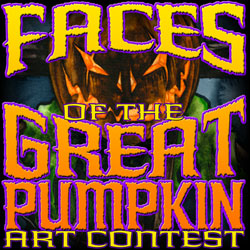 The art contest in 2011 was a blast, so The Cult of the Great Pumpkin, in association with Sinister Visions inc., continued the Faces of The Great Pumpkin Art Contest for 2012.
The concept was simple: Draw, paint, sculpt or otherwise create a portrait of The Great Pumpkin. That is, YOUR VISION of The Great Pumpkin. Since nobody's ever seen him (and lived to tell about it, anyway), his appearance is completely open to interpretation, and that's what we want to see! Let your imagination run wild, commit your ideas to paper, screen, sculpt or pumpkin pulp, and send it in! You can see 2011's submissions HERE.
Here are the Faces of the Great Pumpkin you sent in! Thank you to all the artists who shared their vision of our favorite pumpkin – we received twice as many entries as 2011!
THE WINNERS
POPULAR VOTE
Voted by you, the website visitors, with nearly twice as many votes as any other contestant, the winner is Keith A. Burruss for Ivan, The Great (and Terrible) Pumpkin (of Oz)
OFFICIAL
Determined by our Panel of Halloween Experts, here are the 2012 winners:
First Place : "The Arrival" by Anonymous Rhode Montijo

Second Place : "Great Pumpkin Fogger" by Andreas Ivanof

Third Place : "Fright Man" by James Tragesser
Congratulations to all of the 2012 winners and a special thanks to everybody that participated/voted! Looking forward to doing it again in 2013!
THE ENTRIES
Or, just use the navigation links under this image to browse through all the entries.

HELP SPREAD THE WORD!
Use one of these banner/buttons and link to http://pumpkincult.com/contests/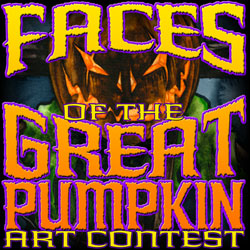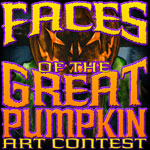 You must log in to post a comment.