The First Annual Cult of the Great Pumpkin Art Contest (2011)
Faces of the Great Pumpkin Art Contest 2011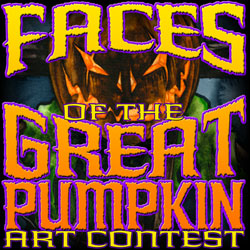 The concept was simple: Draw, paint, sculpt or otherwise create a portrait of The Great Pumpkin. That is, YOUR VISION of The Great Pumpkin. Since nobody's ever seen him (and lived to tell about it, anyway), his appearance is completely open to interpretation, and that's what we wanted to see! Let your imagination run wild, commit your ideas to paper, screen, sculpt or pumpkin pulp, and send it in!
Here are the Faces of the Great Pumpkin you sent in!  Thank you to all the artists who shared their vision of our favorite pumpkin!
First Place : Jason Glenn, "Pumpkin Night"

Second Place : Caitlin Fabro, "The Great Pumpkin"

Third Place : Steve Hoffine, "The Cave Pumpkin King"

Congratulations, Jason, Caitlin & Steve, and thank you to all our participants!
Voting for the First Annual Faces of the Great Pumpkin Art Contest
Jason Glenn – Pumpkin Night (26%, 74 Votes)
Caitlin Fabro – The Great Pumpkin (23%, 65 Votes)
Steve Hoffine – The Cave Pumpkin King (21%, 60 Votes)
Meatspider Studios – Rise of the Great Pumpkin (10%, 28 Votes)
Crystal Legendre – Great Pumpkin Portrait (8%, 22 Votes)
Krystal Fancey Beck – Halloween Harvest (5%, 14 Votes)
James Tragesser – Want Some Candy? (2%, 5 Votes)
Julaine Dokis – Fester Pumpkin (1%, 4 Votes)
Joel Winterstellar – The Great Pumpkin (1%, 4 Votes)
Miles Woods – The Great Mechanical Pumpkin (1%, 3 Votes)
Jesse Cook – Great Pumpkin – Smooth Operator (1%, 2 Votes)
Yamila Lee Tomas – Pumpkin Soul (1%, 2 Votes)
Preston Silcox – Pumpkin (0%, 0 Votes)
Total Voters: 283