The Third Annual Cult of the Great Pumpkin Art Contest (2013)
Faces of the Great Pumpkin Art Contest 2013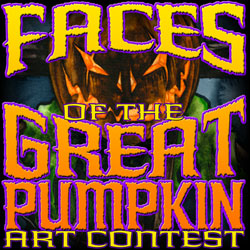 We have the winners of the 2013 Faces of the Great Pumpkin Art Contest as judged by our site visitors (Popular Vote) and our Panel of Judges Pumpkinrot, Eric Pigors and Lesley Bannatyne. AND THE WINNERS ARE!
Popular Vote: The Great Jack-O-Lier by Ann Marie Jones Allen
First Place: Trick by Daniel Fool
Second Place: Jack Planted Pumpkins by Kyle Butterfield
Third Place: You're a Tasty Man, Charlie Brown by Raymond Betancourt
Congratulations to all the winners and a very special THANK YOU to everybody who participated!!
The 2013 Submissions
You must log in to post a comment.