Trick or Tarot: The Oracle for Halloween… and Beyond: A Halloween Tarot Kickstarter Campaign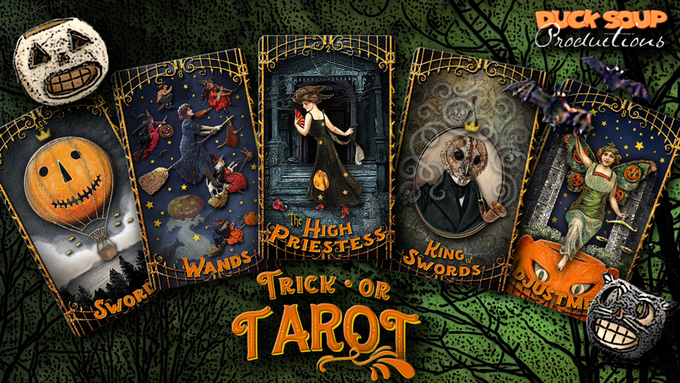 From Duck Soup Productions: A creepy, kooky, altogether ooky new Tarot pack, in standard and deluxe Jumbo editions.
Knock-Knock… It's Trick Or Tarot!
It isn't the first Halloween-themed Tarot deck, and it won't be the last; but my hope is that it will become the best, most-loved and most-used. Halloween is my favorite holiday and one that is perfectly suited to the Tarot. After all,
"At twelve o'clock on Halloween / Many strange things can be seen" — (Vintage greeting card verse)
More Than Just a Novelty Deck

Each of the creator's tarot and oracle packs has its origin in the fabulous and fanciful, but under the hood they are thoughtfully and carefully crafted with an eye towards the traditional themes and symbols of Tarot. Far from being merely a "gimmick" deck, TRICK or TAROT is designed as a working pack aimed at practitioner and novice alike.
This Kickstarter has already reached its goal, but you still have a few days to pledge and get in on the rewards and perks HERE!
---
Have a news item, product or other item of interest to Halloween lovers everywhere? Then SUBMIT IT! It's free! It's easy! It's what all the cool ghouls are doing!
Posted by admin
Tags: Tarot
You must log in to post a comment.