Charity Jack O' Lanterns from Sinful Audio & Boston Haunted Manor
Sinful Audio is offering Boston Haunted Manor Carved Creepers – handcrafted jack-o'- lanterns made from a combination of papier-mâché and plaster mesh, waterproof adhesives, and storm resistant exterior latex paints and varnish making these pumpkins 100% weatherproof inside and out.
To capture the Spirit of Halloween, each Carved Creeper has one hair from a black cat and pieces from a newspaper dated October 31 incorporated into it and was crafted while listening exclusively to music and sound effects of the season.
Each jack-o'-lantern also includes a perfectly concealed battery-operated flicker light to produce a truly haunting effect.
A portion of the proceeds will be donated to The Leukemia and Lymphoma Society. Get yours HERE!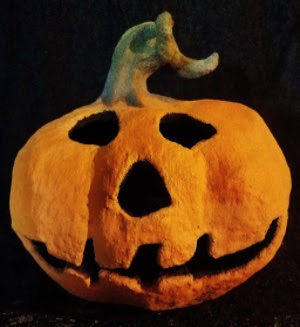 ---
Have a news item, product or other item of interest to Halloween lovers everywhere? Then SUBMIT IT! It's free! It's easy! It's what all the cool ghouls are doing!
You must log in to post a comment.