Vac-tastic Plastic – Gigantic Vintage Halloween Mask Wall Art!
Posted : October 14th, 2016
Pumpkinrot posted about this a month ago, but I think it deserves a signal boost. From Retro-A-Go-Go:
Calling all monster fans! Get ready to shriek with pure joy! As you know, for too many years, there hasn't been enough cool Halloween décor created specifically for us monster lovers. Retro-a-go-go! Product Developer, artist Doug P'gosh, set out to change exactly that — and he has in a big, big way!
Introducing the brand new & original Retro-a-go-go! product line called, Vac-tastic Plastic horror décor, exclusively yours from Retro-a-go-go!
Meet the first seven creeps in this new, Ghoulsville thrilling series. Each mask is thoughtfully inspired by our warm memories of costumes and playsuits of the 60's-70's. These masks and costumes were found at the local Five & Dime Stores. The plastic masks were our favorite part of those old vintage costumes.
We've blown our Vac-tastic Ghoulsville wall décor masks up to gigantic and monstrous proportions. Each fantastic mask towers just under 2 feet tall. Best part is, they're created in the same spirit and material used for the much-loved vintage kid's masks of yesteryear. Even the collector's edition box, with the clear top, is an homage to the original window boxes. Whether you get your freak on by adding them to your boring walls or keep them mint in box and proudly displayed, there is nothing else like them anywhere! The word unusual doesn't come close to their creeptastic awesomeness. Collect them all!
See all the masks and order yours at http://www.retroagogo.com/vac-tastic-plastic/!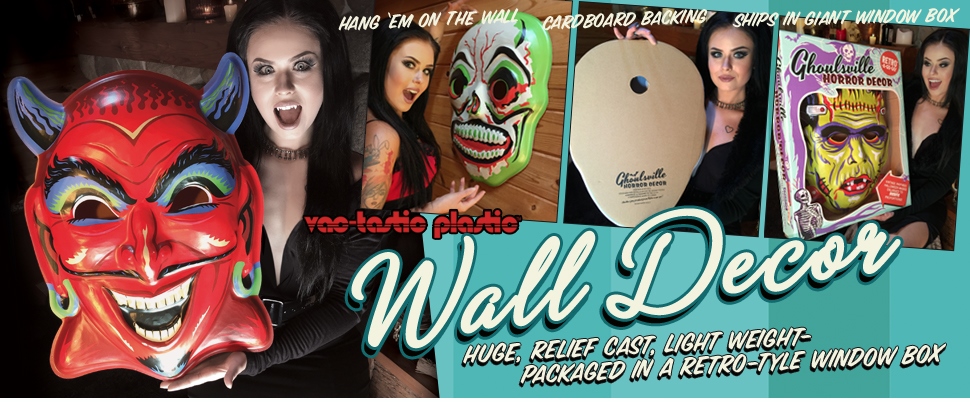 ---
Have a news item, product or other item of interest to Halloween lovers everywhere? Then SUBMIT IT! It's free! It's easy! It's what all the cool ghouls are doing!
You must log in to post a comment.