Halloween at High Noon 2015: les Morts Gothique
Posted : October 6th, 2015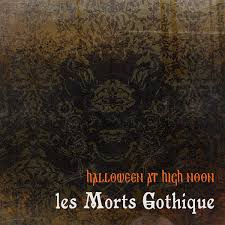 For several years now, High Noon Records has been releasing a seasonal compilation album under the title Halloween at High Noon, which features creepy tracks by the artists on the label.
The music is somewhat hard to describe – a mix of beats, original orchestrations, musical samples and horror movie dialogue samples, all combining to create a spooky atmosphere that (I've found) is great to play while you need to concentrate on something, but would be just as great playing at a Halloween cocktail party. If you're a fan of the music of John Carpenter or David Lynch, you'll find a lot to love, here.
les Morts Gothique swings from very hip to incredibly sinister – the album opens with a track by Dead End Ranch called "Lights Out" which features a sample from Nurse with Wound's "A Short Dip In The Glory Hole" (you can find/listen to it on YouTube), one of the creepiest sound compositions I've ever heard, and used to great effect here. "Grave Desire" by Man With the Spinning Face has a decidedly Depeche Mode by way of King Dude sound, while "Hexarcana" by The Black Spots would make a great theme song for a spooky superhero or secret agent. Throughout the album you'll hear rumbling thunder, familiar bits of dialogue from your favorite horror movies (and many incredibly obscure ones), and I'm pretty sure I heard the score from the movie Sinister sampled in there, once again to excellent effect.
This is unconventional Halloween music to be sure, and over the years I've grown to look forward to the new release as part of my October rituals. You can, too, via iTunes and Amazon MP3.
Here's a sample track – see what you think:
If you're new to Halloween at High Noon, you can find all their releases here: http://www.highnoon-records.com/halloween%20at%20high%20noon/halloween.htm
---
Have a news item, product or other item of interest to Halloween lovers everywhere? Then SUBMIT IT! It's free! It's easy! It's what all the cool ghouls are doing!
You must log in to post a comment.