Posted : September 24th, 2015
Comments: 2
There are an unprecedented number of movies being released this fall that are either specifically about Halloween or are set on or around Halloween. We thought we'd do a round up to help you with your spooky seasonal viewing, starting with the one we're most excited about (and then in no particular order):
Tales of Halloween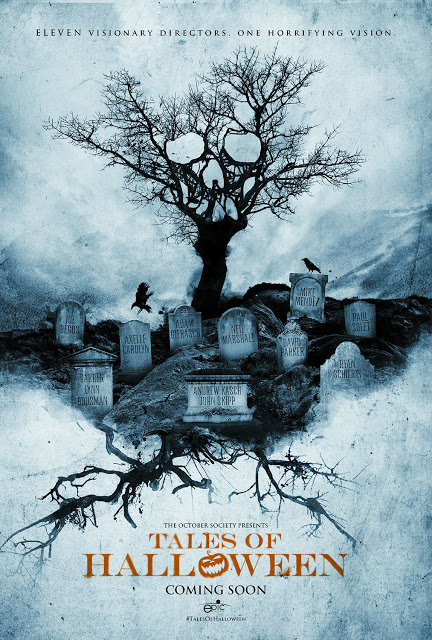 Release Date: October 16
https://www.facebook.com/TalesOfHalloween
Eleven directors, renowned for their contribution to the horror movie genre, have joined forces to create a series of interconnected stories, each with a unique Halloween theme. Ten short films have been woven together by a shared theme of Halloween night in an American suburb, where ghouls, imps, aliens and axe murderers appear for one night only to terrorize unsuspecting residents.
DIRECTED BY: Adam Gierasch (Night of the Demons), Andrew Kasch (Never Sleep Again: The Elm Street Legacy), Axelle Carolyn (Soulmate), Darren Lynn Bousman (Saw II, III & IV), Dave Parker (The Hills Run Red), John Skipp (Stay at Home Dad), Lucky McKee (All Cheerleaders Die, The Woman), Mike Mendez (Big Ass Spider!), Neil Marshall (The Descent), Paul Solet (Grace), Ryan Schifrin (Abominable)
Hellions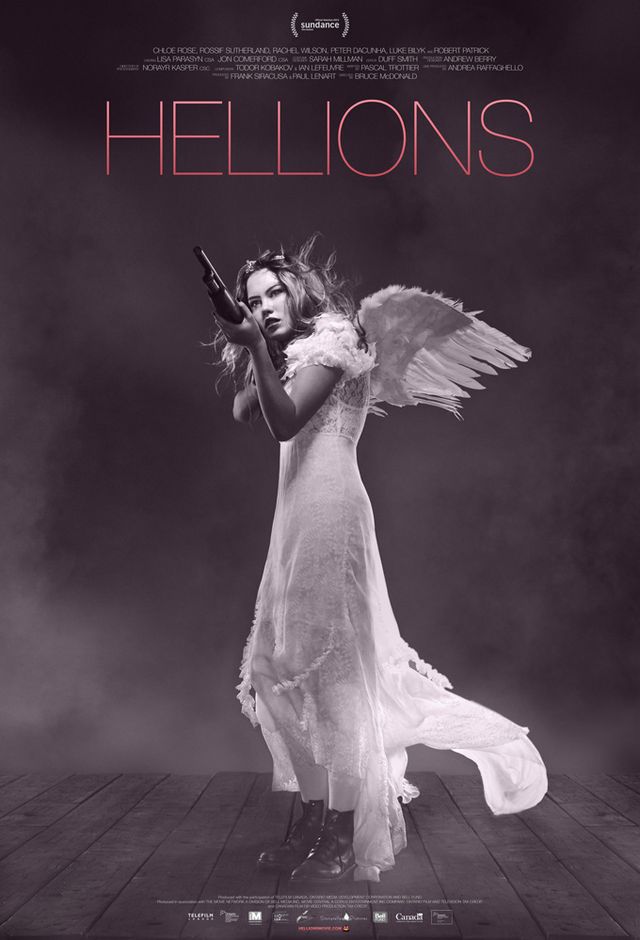 Out Now!
http://hellionsmovie.com/
STRANGE TRICK-OR-TREATERS PLAGUE CONFLICTED TEENAGER DORA VOGEL (CHLOE ROSE) AT HER ISOLATED HOME ON HALLOWEEN.
Under siege by forces she can't understand, Dora must defend both body and soul from relentless Hellions, dead-set on possessing something Dora will not give them. Set in a visually haunting landscape, Hellions redefines the boundaries of horror with its potent brew of Halloween iconography, teenage angst and desperate survival.
Pay the Ghost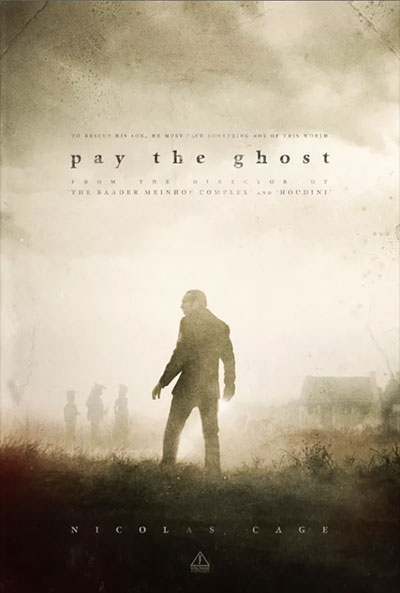 Out Now!
No website evident
One year after Mike Lawford's young son disappeared during a Halloween carnival, he is haunted by eerie images and terrifying messages he can't explain. Together with his estranged wife, he will stop at nothing to unravel the mystery and find their son-and, in doing so, he unearths a legend that refuses to remain buried in the past.
Honeyspider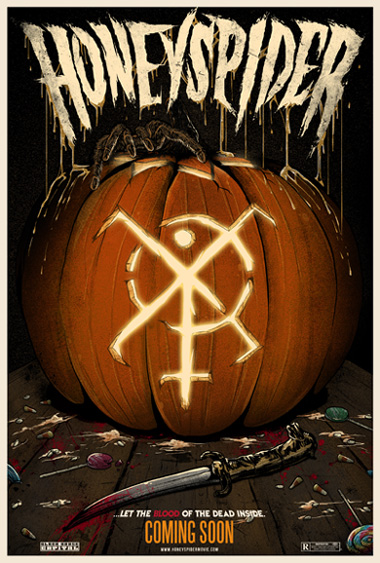 Release Date: October 6
http://www.honeyspidermovie.com
It's Halloween day in 1989 and college student Jackie Blue wants to enjoy a quiet birthday in the midst of a chaotic semester at school. Her friend Amber has other ideas and persuades Jackie to come to the annual Monster Mash party on campus after her shift at the local movie theater. As murder plays out on the silver screen during the theater's Halloween night Horrorthon, Jackie falls under a strange spell, all while a mysterious stranger watches over her every move. As the night unfolds, Jackie slowly unravels and everyone around her is turning up dead. Jackie finds herself helplessly trapped like prey in a spider's web, and all she can do is try to survive the night!
Gravy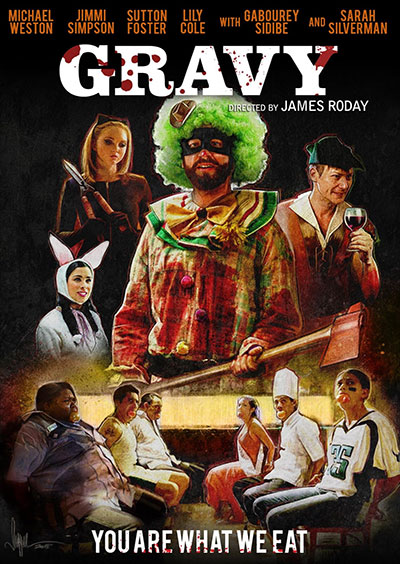 Release Date: October 2
http://www.gravymovie.com/
It's Halloween night. A trio of costumed misfits with very special dietary requirements invades a Mexican cantina and forces the staff to engage in a late night of gluttony. The only caveat is what's on the menu… and who will survive until morning!
A deliriously demented horror-comedy that is a true feast for genre fans. Stuffed with an outstanding ensemble cast and perfectly seasoned with laughs and scares, you'll be sure to ask for seconds on Gravy.
All Hallows' Eve 2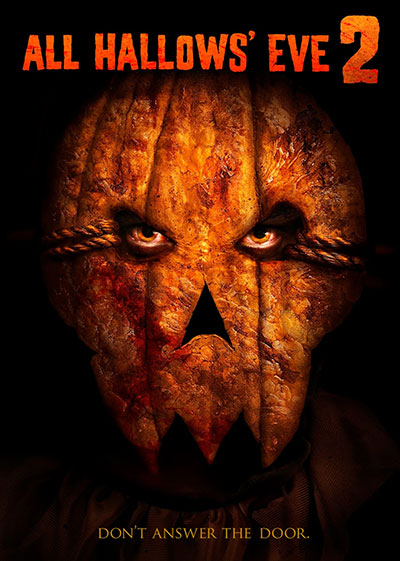 Release Date: October 6
No website evident
Alone on Halloween, a young woman finds a mysterious VHS tape on her doorstep—a tape that shows a series of gruesome and ghastly tales that appear to be all too real. But these terrifying glimpses of damned souls are not the only horrors that stalk her. A sinister, pumpkin-faced killer is using the videotape as a portal into our reality; and if he makes it through, this twisted trickster seeks only one "treat": blood.
All Hallows Eve: October 30th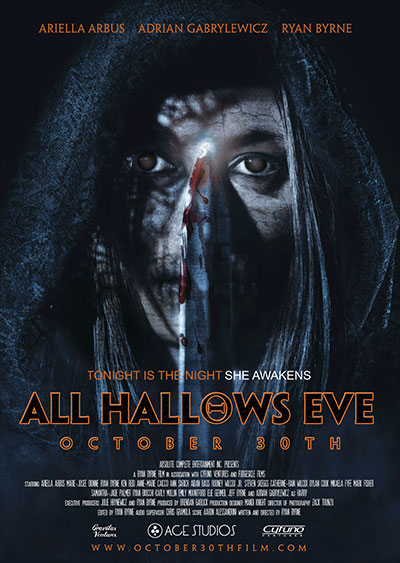 Out Now!
http://www.october30thfilm.com/
20 years after a psychotic episode in Pearl Lake on October 30th 1988, the so-called events of "missing people" begin again. Oldest son, Ethan Pearl and brother Jacob intricately select a cast of stars (Jade, Heather, Gene, Milton, & Crew) in an attempt to produce a Pearl Lake horror film based on their traumatic childhood. While scouting and rehearsing, the group encounters several eery mishaps and a tyrannical maniac. Ethan leads Jade down a perceived path to safety, but when she continues to search for answers, she realizes this isn't an ordinary film, or an ordinary director.
Hotel  Transylvania 2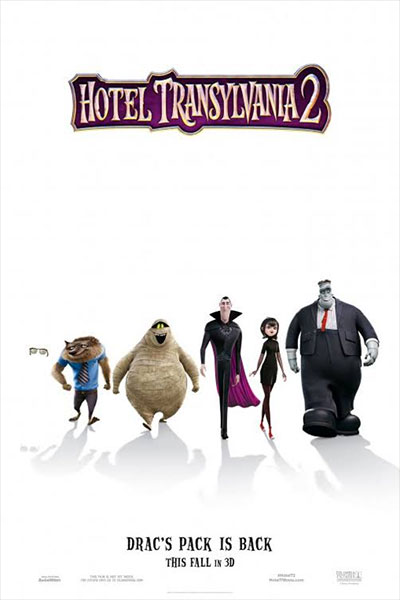 Out Now!
http://www.hoteltransylvania2.com/
(Not necessarily *about* Halloween, but c'mon…) Now that Dracula (Adam Sandler) has opened the Hotel Transylvania's doors to humans, things are changing for the better; however, Drac is secretly worried that his half-human grandson, Dennis, isn't showing his vampire side. So, while Mavis and Johnny are away, Drac enlists his friends to help him put the boy through a "monster-in-training" boot camp. But things really get batty when Drac's cantankerous, old-school dad (Mel Brooks) pays an unexpected visit.
Caesar & Otto's Paranormal Halloween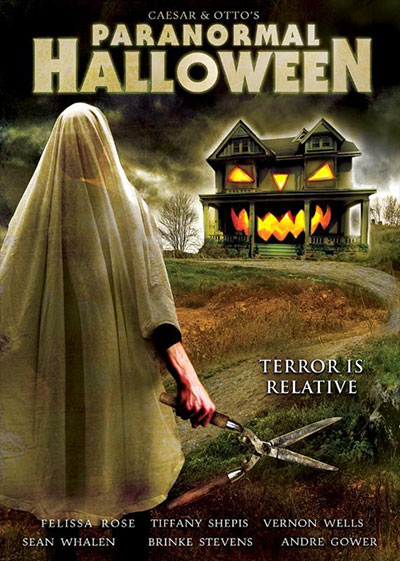 Out Now!
https://www.facebook.com/paranormalhalloween
It's Halloween Eve and Caesar and Otto find themselves housesitting for the world's most unpopular Governor, Jerry Grayson (MacFarlane). But after a series of ghostly visions, strange phenomenon and a demonic possession, the half-brothers call upon renowned exorcist Father Jason Stieger to help put a stop to this new nightmare. But in this house, nothing is what it seems and everyone is fair game for the mysterious forces at work.
The Trick or Treaters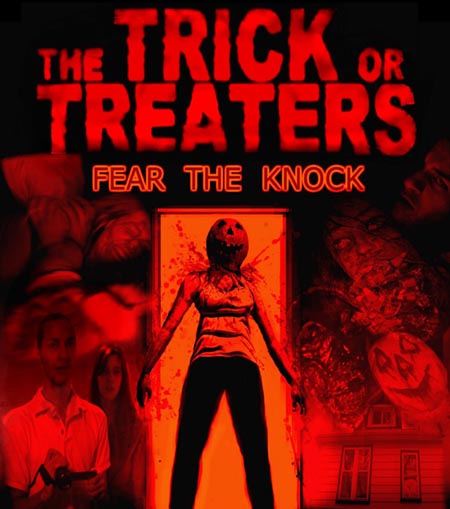 Release Date: October 30
https://www.facebook.com/The-Trick-or-Treaters-178214375580604/timeline/
During a mellow pre-Halloween night of drinks, pranks and old horror films, Amy and Jake film a last minute schedule video for their school's annual Halloween fundraiser, but they are quickly interrupted by a strange group of trick or treaters, also equipped with a video camera. Dismissing it as a prank by their friends, they ignore the strange interruption and continue with their night. As strange things continue to occur and escalate to an extreme level, the students quickly discover that they are dealing with dark individuals…and they don't want candy.
…and these are just the ones we know about. Did we miss any? Let us know in the comments!
2 Comments
Go to Post...