Posted : October 22nd, 2015
Comments: 0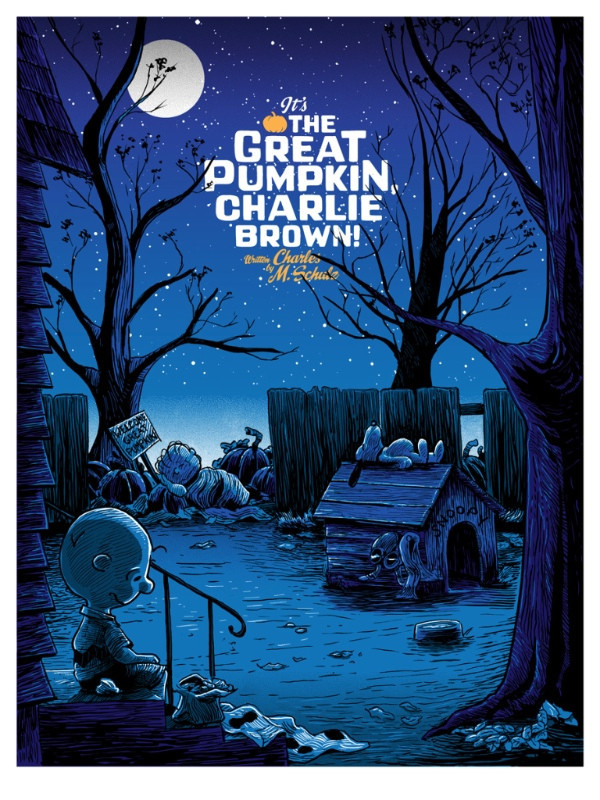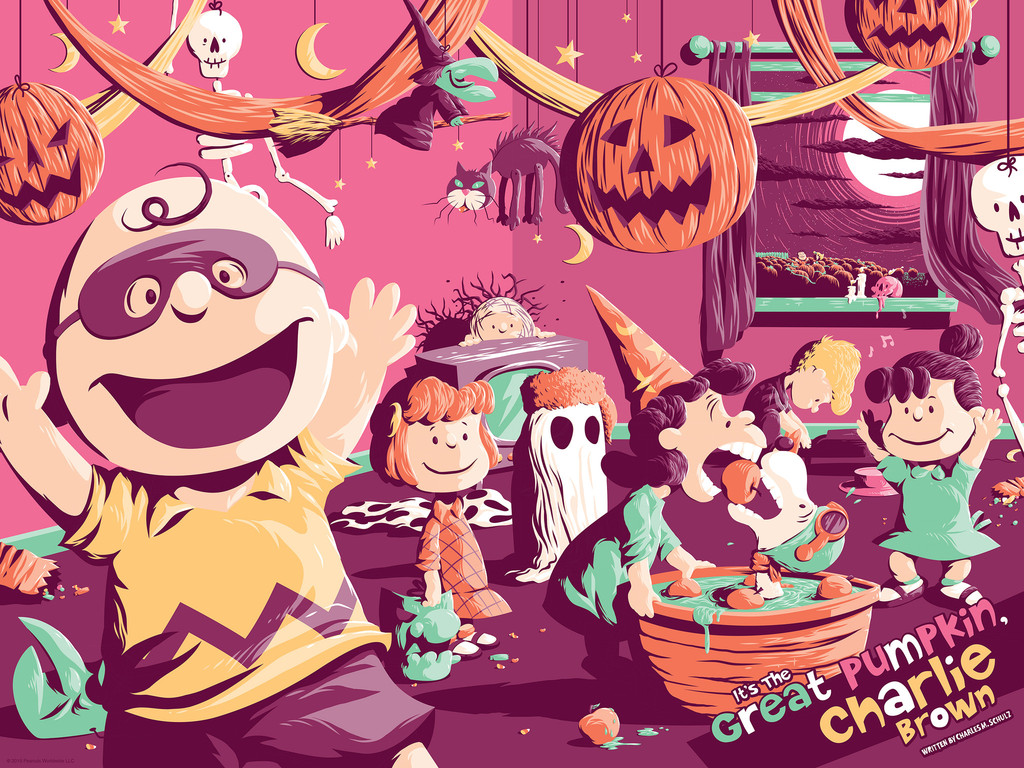 Dark Hall Mansion, http://www.DarkHallMansion.com, is thrilled to reveal its officially licensed annual Peanuts "It's the Great Pumpkin, Charlie Brown" limited edition print release, with a very special twist for 2015, via two completely different takes on Charles M. Schulz's 1966 holiday classic. DHM is proud to welcome a collaboration between artists, Tim Doyle & Ridge Rooms, as well as artist, Florey, all interpreting the Peanuts masterpiece that takes us each back to our childhoods and signals the holidays are indeed upon us!
Dark Hall Mansion, under license from Peanuts Worldwide, will release Tim Doyle & Ridge Room's beautiful, quiet meditative piece that invites us to sit with Charlie as he considers events that transpired just a short while earlier on one most memorable trick or treat Halloween outing. Beautifully composed with Charlie's cut-up ghost costume lying at his feet, along with a most undeserved bag of rocks, we join Charlie as he reflects on the evening, his tender yet unflinching expression not so much one of sadness as reflection at what life tosses our way, his pensive look underscoring his resilience and spirit's refusal to break. That faithfulness in something greater further brought home to the viewer courtesy of one charmingly snuggled Linus, 'Great Pumpkin' sign close by. Tim's work is well known, and we trust some fans will recognize Ridge's name as she worked right at the Charles M. Schulz offices of Peanuts' Creative Associates in northern California, her work so respected that she was called upon to design the Peanuts' 'Google Doodle' for Thanksgiving one year. Their screen print will of course be offered via one exclusive printing only with a Standard edition, a moody Variant edition with silver metallic ink highlights, and a small select run of just 25 Halloween glow-in-the-dark editions.
As a surprise, and serving as a lively counterpoint to Tim & Ridge's piece is Australian artist Florey's celebratory print that, for the first time, showcases the Peanuts Halloween party scene as principal imagery. With brights colors and Florey's distinctive style we see the gang at their happiest, candy and costumes strewn about, a classic Schulz Lucy-Snoopy moment captured, and, to counter those 'rocks,' a most joyous Charlie Brown, all ringing in the night together while one dedicated little boy (and  a soon to be demanding 'restitution' little girl!) wait diligently for the arrival of the beloved 'Great Pumpkin.'
The special editions of these prints have (unsurprisingly) sold out, but the above two (plus a secondary color edition of the party scene) are now available at http://darkhallmansionstore.com/
Leave a Comment
Go to Post...